About us
Every week we place new vintage Scandinavian lamps on the site. We only sell vintage lamps and collect them ourselves in Scandinavia. The lamps are then cleaned and rewired where necessary. If the paint of a lamp is in poor condition, we will have the lamp re-powder coated by a specialized company. If a lamp has been re-powder coated, this is always described in the advertisement. We never repaint the lamps ourselves. If a lamp has light paint damage, we will not update it. This means that the lamps can have paint damage, in our opinion this is also part of these lamps. Please take a careful look at the photos to get a good impression of the condition. If you are unsure about the condition of a lamp, please contact us.
Delivery of your order
All our products are carefully packed and sent by registered mail with Post NL. We aim to dispatch your order within one to five business days. It is also possible to pick up the lamps in Berkel en Rodenrijs. If your order does not meet your expectations, you have 14 days to return it to us. As soon as we have received your order, we will refund the purchase price minus the shipping costs. Please send us a message so we know that a package is on its way to us.
Spaces
Add vintage Scandinavian lamps to your interior
Vintage Scandinavian Lamps for the different rooms in your home. Are you looking for lighting for a specific room? On this page you can view our range of lamps per room. You can easily find mood lighting for your living room , practical lighting for your office and basic lighting for a hall .
How to apply the Scandinavian style in your own home
Your environment plays a major role in a relaxed lifestyle. Especially now that with the arrival of the COVID-19 pandemic, people are spending more time at home than ever. Home has also become the workplace for many. Partly because of this, the trend has arisen to create a calm and relaxed atmosphere at home. The Scandinavian interior style optimally supports the need for peace and relaxation in your spaces if you are looking for a serene escape from the outside world.
Different variants of indoor lighting for all rooms
The different light sources each have their own light potential. With us you can find the following light sources, among others:
Hanging lamps
A hanging lamp is very suitable for atmospherically illuminating your living room, dining room or bedroom. Many of our Scandinavian pendant lights are designed based on the multi-shade reflective system. As a result, the light is distributed over several scales. This allows the light to shine both horizontally and downwards. This principle is reflected in Louis Poulsen's lamps, among other things. The scales are often white in color, so that the light distribution is soft and even.
With a power outlet nearby, you can place the lamp anywhere.
You can also distinguish between functional lighting and mood lighting with wall lamps. With functional lighting you can think of wall lamps where you can read, such as the magnetic lamps that you can find on our site. With the Louis Poulsen mini Safir wall lamps you can create atmosphere in a hallway or in your living room. With the soft light of this fixture, you can subtly emphasize a wall. Illuminating walls makes a room appear more spacious. Our Scandinavian wall lamps are an eye-catcher in every room.
Floor lamps
With floor lamps you can create both functional lighting and mood lighting. By placing a floor lamp next to the sofa or armchair, you create enough light for reading. Another advantage of floor lamps is that they are easy to move, you only need a socket.
table lamps
With a Scandinavian table lamp you add a real eye-catcher to your interior. Table lamps are a handy light source that provides an ideal addition to the basic lighting. Like a floor lamp, table lamps also have the advantage that they are easy to move to different rooms.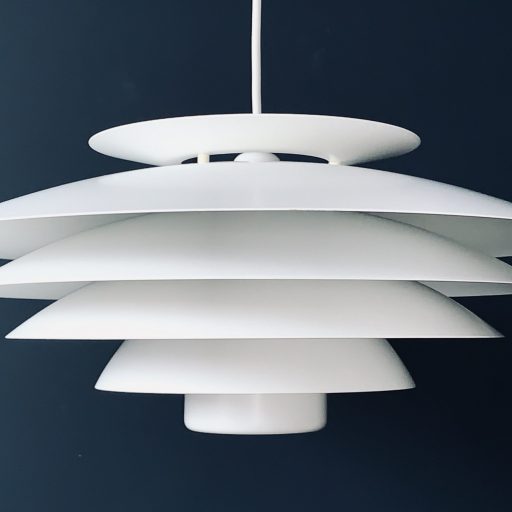 Danish lighting
The uniqueness of Danish lighting is that lighting and cosiness are closely linked. Danish lamp design is not just about form. So the purpose of the Danish lamp is not just to provide light, but to continue to create beautiful design objects that both adorn and provide cozy light in Danish homes.