About us
Every week we place new vintage Scandinavian lamps on the site. We only sell vintage lamps and collect them ourselves in Scandinavia. The lamps are then cleaned and rewired where necessary. If the paint of a lamp is in poor condition, we will have the lamp re-powder coated by a specialized company. If a lamp has been re-powder coated, this is always described in the advertisement. We never repaint the lamps ourselves. If a lamp has light paint damage, we will not update it. This means that the lamps can have paint damage, in our opinion this is also part of these lamps. Please take a careful look at the photos to get a good impression of the condition. If you are unsure about the condition of a lamp, please contact us.
Delivery of your order
All our products are carefully packed and sent by registered mail with Post NL. We aim to dispatch your order within one to five business days. It is also possible to pick up the lamps in Berkel en Rodenrijs. If your order does not meet your expectations, you have 14 days to return it to us. As soon as we have received your order, we will refund the purchase price minus the shipping costs. Please send us a message so we know that a package is on its way to us.
Trumpet Lamps
Deze trompet lampen hebben een mooie geraffineerde en organische vorm, waarbij de vorm van de lamp overloopt in het snoer. Het model van deze lamp wordt ook wel trompetlamp of heksenhoed genoemd.
Ontwerp
De basis van dit armatuur komt overeen met de iconische Semi lamp van Fog & Morup uit 1967. Ook is dit model door verschillende andere fabrikanten uitgevoerd. Door het ontbreken van een sticker in sommige lampen is het helaas niet bij alle trompet lampen te achterhalen wie hem heeft ontworpen.
Deense verlichting
Het unieke van de Deense lichtcultuur is dat verlichting en gezelligheid nauw met elkaar verbonden zijn. Deens lampontwerp gaat niet alleen over vorm. Het doel van de moderne Deense lamp is dus niet alleen om licht te geven, maar om door te gaan met het creëren van prachtige designobjecten die zowel sieren als gezellig licht geven in Deense huizen.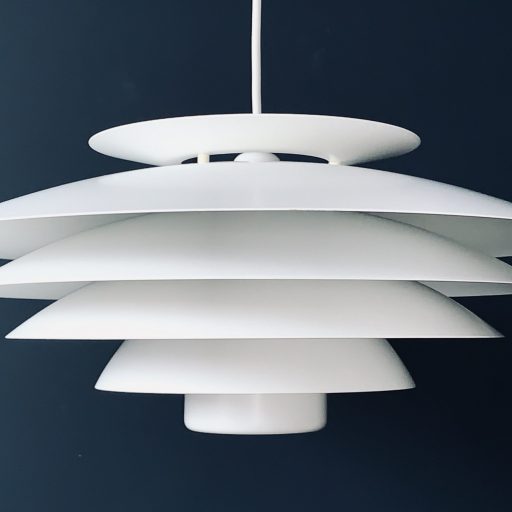 Danish lighting
The uniqueness of Danish lighting is that lighting and cosiness are closely linked. Danish lamp design is not just about form. So the purpose of the Danish lamp is not just to provide light, but to continue to create beautiful design objects that both adorn and provide cozy light in Danish homes.