About us
Every week we place new vintage Scandinavian lamps on the site. We only sell vintage lamps and collect them ourselves in Scandinavia. The lamps are then cleaned and rewired where necessary. If the paint of a lamp is in poor condition, we will have the lamp re-powder coated by a specialized company. If a lamp has been re-powder coated, this is always described in the advertisement. We never repaint the lamps ourselves. If a lamp has light paint damage, we will not update it. This means that the lamps can have paint damage, in our opinion this is also part of these lamps. Please take a careful look at the photos to get a good impression of the condition. If you are unsure about the condition of a lamp, please contact us.
Delivery of your order
All our products are carefully packed and sent by registered mail with Post NL. We aim to dispatch your order within one to five business days. It is also possible to pick up the lamps in Berkel en Rodenrijs. If your order does not meet your expectations, you have 14 days to return it to us. As soon as we have received your order, we will refund the purchase price minus the shipping costs. Please send us a message so we know that a package is on its way to us.
Category:
Raadvad bread slicer
Raadvad bread slicer
Beautiful Vintage Bread Slicers from the Danish brand Raadvad.
The Raadvad bread slicer has a sharp stainless steel blade. This makes them extremely suitable for cutting bread. Place the bread on the wooden board. Then the guillotine simply cuts a slice in the thickness you want. It is also possible to cut cheese, vegetables and meat. Nowadays, Raadvads are also used for decoration in, for example, the Horeca, Pastry Shops and Specialty Shops. This is how he has found his place as a stylish eyecather. In addition to its functionality, the design of this bread slicer makes the Raadvad a true Danish classic
Specifications
The Raadvad is a cast iron bread slicer with a razor-sharp stainless steel blade, wooden handle and boards. The Raadvad is also marked in the cast iron and it has the official brand stamps in the wood.
Measurements are:
Height: 24 cm / 9.5 inch  

Width: 35.5 cm/14 in.
History
The Raadvaddam factory was founded in 1758 in the Danish town of Raadvaddam. The product catalog of 1805 shows that the company does not focus on luxury goods, but on walkable and usable instruments for professionals. Today this philosophy still applies. Since its foundation, Raadvad has specialized in the production of knives and bread slicers of exceptional quality. Later the name of the factory was changed to  Raadvad Knife factories. After more than 250 years, the factory is still known for its good and functional quality. The iconic design of the Raadvad comes from Ove Larsen and dates back to 1939. Meanwhile a Mid-century Danish design icon!
These Raadvads are about 30 – 50 years old, for that reason we ask you to look carefully at the photos. This will give you a good impression of the condition of the bread slicers.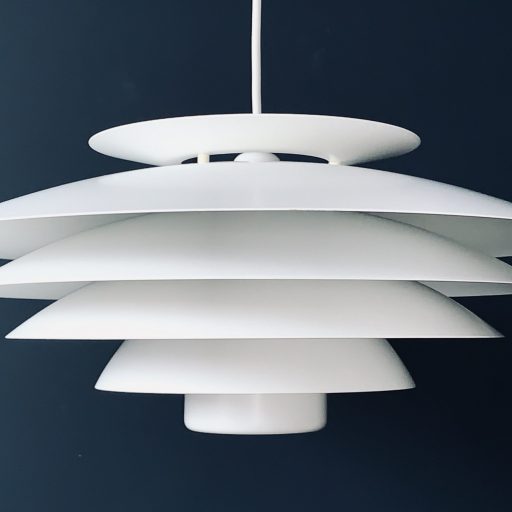 Danish lighting
The uniqueness of Danish lighting is that lighting and cosiness are closely linked. Danish lamp design is not just about form. So the purpose of the Danish lamp is not just to provide light, but to continue to create beautiful design objects that both adorn and provide cozy light in Danish homes.