About us
Every week we place new vintage Scandinavian lamps on the site. We only sell vintage lamps and collect them ourselves in Scandinavia. The lamps are then cleaned and rewired where necessary. If the paint of a lamp is in poor condition, we will have the lamp re-powder coated by a specialized company. If a lamp has been re-powder coated, this is always described in the advertisement. We never repaint the lamps ourselves. If a lamp has light paint damage, we will not update it. This means that the lamps can have paint damage, in our opinion this is also part of these lamps. Please take a careful look at the photos to get a good impression of the condition. If you are unsure about the condition of a lamp, please contact us.
Delivery of your order
All our products are carefully packed and sent by registered mail with Post NL. We aim to dispatch your order within one to five business days. It is also possible to pick up the lamps in Berkel en Rodenrijs. If your order does not meet your expectations, you have 14 days to return it to us. As soon as we have received your order, we will refund the purchase price minus the shipping costs. Please send us a message so we know that a package is on its way to us.
Carl Thore
A well-known myth is that the multi-layer pendant lights commonly known as Carl Thore lamps were produced by Fog & Mørup. The real name of the designer was Sigurd Lindkvist. He was born in 1916 in Amal in Dalsland, Sweden. He started at a lighting company called Luko. Lindkvist then joined Granhaga Metallindustri in 1961, for whom he designed lamps and was also head of sales. He stayed with the company until he retired around 1981.
Lindkvist adopted the pseudonym Carl Thore for his Granhaga lighting designs on a whim. When he presented the lights to a client who asked the identity of the designer. "Carl Thore," Lindkvist blurted out, these are two middle names. The name Carl Thore would then appear on the lamps.
The most popular and widespread lamp designs for Granhaga Metallindustri  are the Trava lamps. Travas has been produced in several variations.
Our offer
The lamps we offer are approximately 30 – 60 years old, for that reason we ask you to carefully view the photos. This will give you a good impression of the condition of the lamps.
We ship our lamps well packed and registered. It is also possible to pick up our products by appointment in Berkel en Rodenrijs.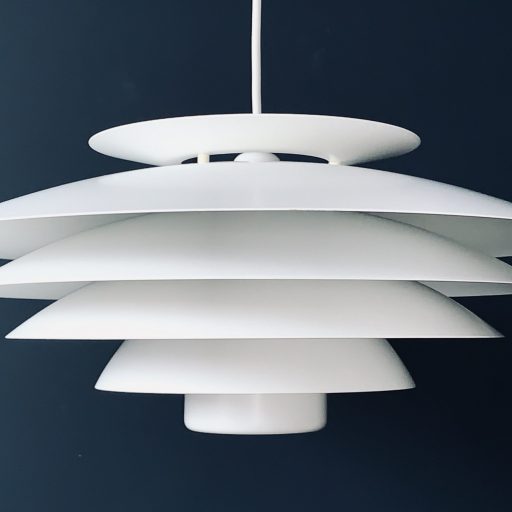 Danish lighting
The uniqueness of Danish lighting is that lighting and cosiness are closely linked. Danish lamp design is not just about form. So the purpose of the Danish lamp is not just to provide light, but to continue to create beautiful design objects that both adorn and provide cozy light in Danish homes.