About us
Every week we place new vintage Scandinavian lamps on the site. We only sell vintage lamps and collect them ourselves in Scandinavia. The lamps are then cleaned and rewired where necessary. If the paint of a lamp is in poor condition, we will have the lamp re-powder coated by a specialized company. If a lamp has been re-powder coated, this is always described in the advertisement. We never repaint the lamps ourselves. If a lamp has light paint damage, we will not update it. This means that the lamps can have paint damage, in our opinion this is also part of these lamps. Please take a careful look at the photos to get a good impression of the condition. If you are unsure about the condition of a lamp, please contact us.
Delivery of your order
All our products are carefully packed and sent by registered mail with Post NL. We aim to dispatch your order within one to five business days. It is also possible to pick up the lamps in Berkel en Rodenrijs. If your order does not meet your expectations, you have 14 days to return it to us. As soon as we have received your order, we will refund the purchase price minus the shipping costs. Please send us a message so we know that a package is on its way to us.
Brands
Scandinavian brands
Scandinavian design is popular like never before! The Danish Design brands in particular are very popular in lamps, furniture, accessories and fashion. What is the secret behind the great success? Is it the old classics from the heyday of the 1950s that still keep Denmark at the forefront? Below I take you on a journey back in time to take a closer look at Danish design.
In the post-war period, there was again fertile ground for designing, developing and producing. Everywhere new initiatives flourished and the creative forces were expressed.
Designers
Hans Wegner, Arne Jacobsen and Poul Henningsen are among the best of the time and their designs have actually only become more popular. The designs originated with the idea of ​​creating well-crafted furniture that was accessible to the general population and that should last for years. Classics like The Ant, the Y-chair and The Egg were popular back then, but the designers probably had no idea how popular they would be years later!
Poul Henningsen designed the first PH lamp in 1926, but it was not until the PH5 lamp, produced in 1958, that the PH lamp became public property. The lamp was an immediate success due to the revolutionary screen shapes, which provide spectacular light. Danish design brands became synonymous with modernism and functionalism.
Many well-known designers from then and now have one or more beautiful design lamps on their resume, view our site for the current range of these lamps.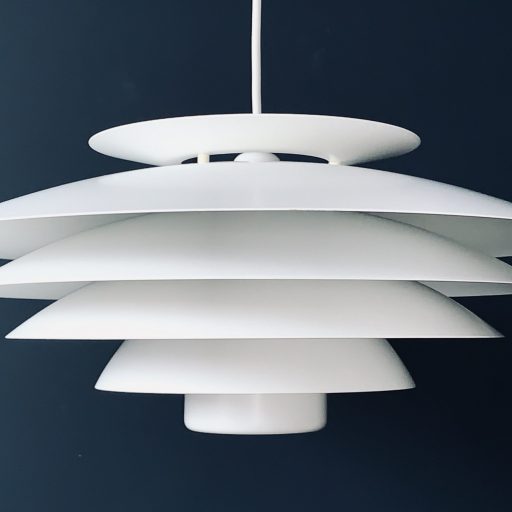 Danish lighting
The uniqueness of Danish lighting is that lighting and cosiness are closely linked. Danish lamp design is not just about form. So the purpose of the Danish lamp is not just to provide light, but to continue to create beautiful design objects that both adorn and provide cozy light in Danish homes.